Tom Walton is head chef at Bondi Beach's Bucket List restaurant. He cooks with an emphasis on fresh, local and seasonal produce, sourcing his ingredients with care. The seafood at The Bucket List comes from wild fisheries and best practice aquaculture producers in Australia and New Zealand, supporting local fisheries and reducing food miles.
This recipe features Cone Bay Barra. You can use wild-caught fish if it's available, but as Tom explains, "Cone bay Barramundi is a remarkable fish. Farmed in sea pens off the West Australian coastline, it is sustainable and produced under conditions that do not damage the surrounding environment. It has a clean, sweet flavour and firm texture – characteristics that are from its clean tidal ocean habitat."
So why not prepare this simple, elegant dish and enjoy it outside with a glass of vino, much as Tom would serve it.. you can even imagine a view of the Bondi sands.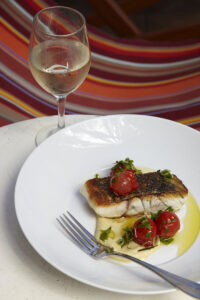 Ingredients
4 x 150g portion of Barramundi skin on
2 punnets of cherry tomatoes
100ml extra virgin olive oil
2 sprigs thyme
1 clove garlic, bruised
salt, pepper
1 large eggplant
juice of 1 lemon
60ml extra virgin olive oil
salt
vegetable oil for cooking
½ bunch chives, finely chopped
¼ bunch parsley, finely chopped
¼ bunch tarragon, finely chopped
juice 1 lemon
Method
To Prepare the Tomatoes
Preheat the oven to 140 degrees C. In a small oven-proof tray or pan, combine the tomatoes with 100ml of olive oil, thyme, garlic and seasoning. Place in the oven for 30 minutes or until the tomatoes are just bursting. Remove from the oven and set the tomatoes aside to stay warm. The left-over oil will become the dressing for the dish.
To Prepare the Eggplant
Pierce the eggplant with a knife and then place over a grill, BBQ or open flame to cook, turning regularly. The skin will char and create a wonderful smoky characteristic within the flesh. Once cooked, remove and allow to cool. When the eggplant is cool enough to handle, scrape the flesh from the skin and blend (using a stick blender or by hand) with 60ml olive oil, lemon juice and seasoning to taste. Set aside and keep warm while you cook the fish.
To prepare the fish
Increase the oven temperature to 180 degrees C. Place a fry pan with an oven-proof handle on a medium heat and add a small amount of oil.
Season the fish with salt. Place the fish skin-side down into the pan and cook gently until the skin begins to lightly crisp. Now transfer the fish and pan into the oven and continue to cook skin-side down for approx 6 min or until the fish is cooked to your liking. You can test its doneness with a skewer or small knife.
To Serve
Add the soft herbs to the tomatoes and their oil, season this mix with lemon juice and salt. Divide the eggplant puree between four plates, spreading out with the back of a spoon. Place the fish on top of this puree, and then spoon the tomatoes, herbs and oil over and around the plate.