Stuffed squid may seem like a difficult proposition, but it is actually a very easy meal to prepare and is sure to impress friends and family alike. Once you master the technique you can start getting creative with the fillings.
The squid can be stuffed ahead of time and cooked when needed.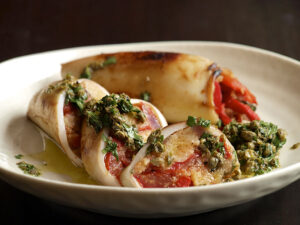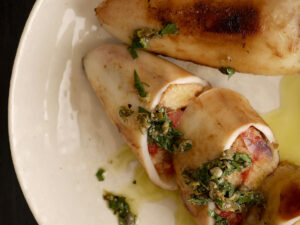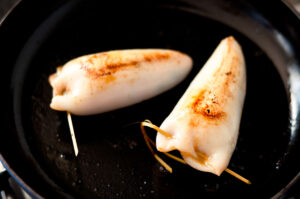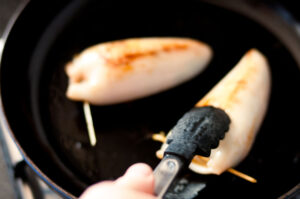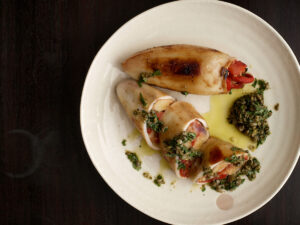 Ingredients
2 Squid or Calamari tubes, approx 300-400g each, cleaned and tentacles reserved for another use
2 Tbs olive oil
For the filling:
1 large red capsicum
1 tomato, deseeded
2 large slices of sourdough bread
½ Cup torn fresh herbs, we recommend basil and parsley
2 Tbs olive oil
Salt and pepper
For the salsa:
3 Tbs capers, rinsed
½ Cup roughly chopped parsley
½ Cup roughly chopped basil
zest of 1 lemon
½ clove of crushed garlic
¼ Cup Extra Virgin Olive Oil
Salt and Pepper
Method
For the stuffing, roast the capsicum in a 200C oven until skin has blackened and blistered (approx 15 minutes). Put the capsicum in a bowl and cover with plastic wrap to 'sweat' the capsicum and loosen the skin. When cool, remove the skin and seeds and slice capsicum into thin strips. Chop the tomato into similar sized pieces.
Meanwhile, cut or tear bread into large pieces and fry in olive oil on a medium heat until golden and crisp all over.
Combine fried bread, capsicum, tomato and torn herbs. Mix well and season with salt and pepper. Stuff squid tubes with this mix, leaving 1 cm unfilled at the open end of the tube. Secure this flap with a skewer or toothpick. Use paper towel to wipe any spilled filling from the outside of the squid tubes.
For the caper salsa, chop capers roughly and combine all remaining ingredients. Set aside until needed.
Preheat an oven to 180C. Heat 2Tbs of Olive Oil in a heavy based frypan on a medium heat. Add the stuffed squid tubes. Cook the squid, turning, until all sides are a dark golden colour. When complete, remove tubes from pan and place into a baking dish.
Put into oven and bake for approximately 10 minutes, until a skewer pierces the flesh easily (indicating tenderness) and comes out of the centre hot. Remove tubes from the oven and rest them for 2-5 minutes.
To serve, slice the stuffed tubes into 2-4 slices depending on size and preference. Serve drizzled generously with the caper salsa with a wedge of lemon to the side.