This refreshing salad is easy and versatile. The balance in it is achieved through the combination of tart, juicy orange segments, sweet calamari and bitter radicchio leaves, along with the spice from fresh radish.
You can add whatever soft herbs you have at hand, and we love using blood orange when it's in season for its colour and flavour. Cook the lentils ahead of time and this salad can be thrown together in a matter of minutes when you're ready to eat!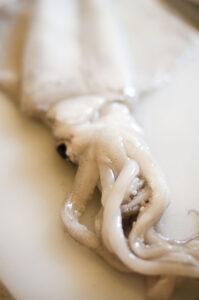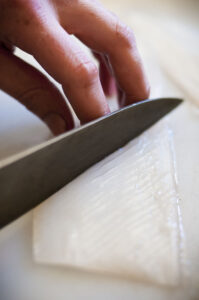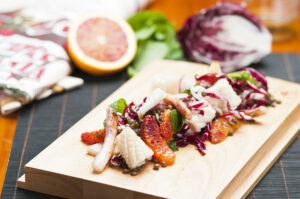 Ingredients
1kg Calamari, cleaned and scored
100g du puy (or "French style") lentils
1 small head of radicchio
4-5 radishes
1 small handful of mint
1 small handful of parsley
2 oranges, segmented
2 cloves garlic
½ brown onion
Salt and Pepper
1 Cup Extra Virgin Olive Oil
1/3 Cup Red Wine Vinegar
Method
To cook the lentils, put the lentils, garlic and onion in a large pot and fill with cold water. Bring to the boil and then reduce heat to a simmer. Season when the beans begin to soften and then continue cooking until tender. When cooked, drain and allow the lentils to cool.
Oil the calamari and cook on a hot barbecue grill or fry pan. Cook for 2-3 minutes on each side until tender. Cut into bite sized pieces.
For the dressing, combine olive oil, red wine vinegar and seasoning. You probably won't require all of this dressing, but it will keep well in an airtight jar.
For the salad, shave radish and chop radicchio finely. Combine these with the lentils, roughly chopped herbs and orange segments. Finish with cooked calamari pieces and the dressing.