Mussels are a fantastic, versatile seafood. They are cheap, readily available, easy to cook and sustainable. In this recipe we present a stew of mussels with a comforting broth of potato, saffron and fennel. Serve with piles of fresh, crusty bread to mop up the delicious juices!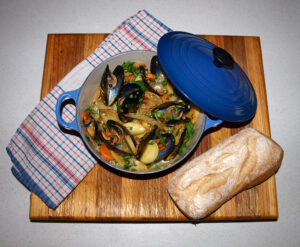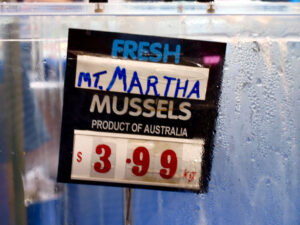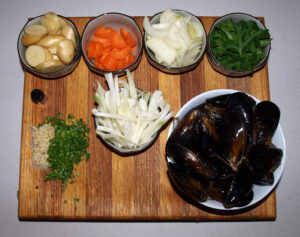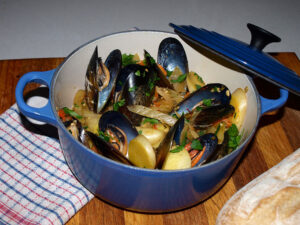 Ingredients
1kg Australian Blue Mussels

1 Cup white wine

1 Cup of fish or vegetable stock

1 pinch of saffron

1 small bulb of fennel

1 onion

1 carrot

1 stick of celery

1 handful of continental parsley

½kg of potatoes (kipfler or waxy)

1 clove of garlic
Method
Debeard the mussels by pulling at the fibrous strands that come out of the hinge. Rinse the mussels well to remove any mud or grit.
Heat a heavy-based saucepan or pot, add the mussels and wine and cover with lid
Shake pan on high heat for 2-3 minutes, until mussels open
Pour the mussels through a fine strainer, reserving cooking liquid. Place saffron in a small saucepan and add the reserved mussel liquid. Bring this to a simmer. Turn off and sit to steep until needed.
Remove mussels from their shells, leaving a few whole for final presentation
Chop the fennel, onion, carrot and celery roughly. Heat the cleaned saucepan and add olive oil.  Sautee the fennel, onion, carrot, celery, garlic and parsley stem until soft.
Add the potatoes and mussel saffron liquid. Add fish stock to just cover potato. Simmer with a lid on until the potato is cooked (approx. 10-15 minutes, check with a knife)
Add reserved mussels back to pan and heat through briefly. Do not overcook or they will become tough and rubbery. Check seasoning – add any salt or freshly cracked pepper to taste
Serve with chopped parsley and fresh crusty bread
Note: Please remember that it is a MYTH that an unopened mussel should be discarded – prise open the shell to get at the meat, if it's bad your nose will tell you!