The less-utilised little cousin of the ever-popular King George Whiting, Sand Whiting has delicate, mild-tasting white flesh with a fine flake. In this recipe we serve them butterflied from the back, which leaves a bone-free pocket to fill with the salad. You can ask your fishmonger to do this for you, or just as easily serve whole or filleted whiting with the salad on the side.
Preparation time: 30 minutes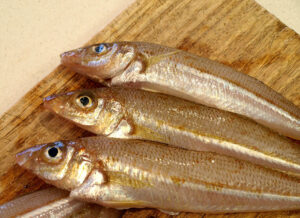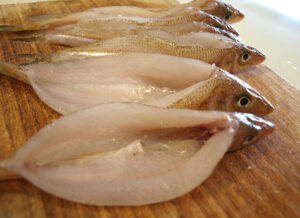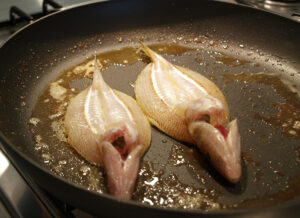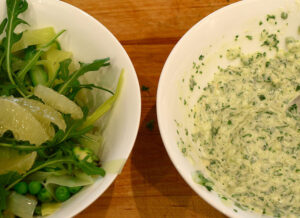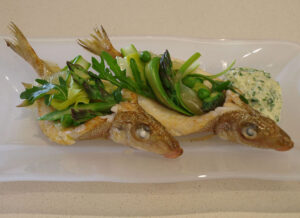 Ingredients
Sand Whiting – 2 per person for a light meal, butterflied from the back to leave a bone-free cavity

1 bunch Asparagus

1/2 Cup fresh peas

1 leek
1 lemon, segmented

1/2 Cup rocket leaves

2 Tbs butter

olive oil, salt and pepper
For the sauce gribiche
2 eggs, hard boiled

1/4 Cup good mayonnaise

2 Tbs capers

2 Tbs cornichons or gherkin

1 handful of mixed herbs – try tarragon, chervil and parsley

1 lemon
Method
For the Sauce Gribiche, separate boiled eggs. Chop the white and pass the yolk through a sieve.
Finely chop the capers, cornichons and herbs. Combine all ingredients and season with salt, pepper and lemon juice to taste.
For the salad, season a pot of water well with salt and pepper, adding 2 Tbs of olive oil. Bring to a simmer.
Meanwhile, slice leek and asparagus into ribbons. In the seasoned water blanch the leek. When it is just tender (approx. 30 seconds to 1 minute) refresh by plunging into iced water. This prevents overcooking and discolouration. Repeat this process with the asparagus and then the peas.
Combine blanched leek, asparagus and peas with lemon segments and rocket. Dress with olive oil, salt and pepper.
For the Sand Whiting, heat a frypan on medium heat. Add the butter. When the butter is foaming, add whiting flesh side down pressing lightly to ensure full contact with the pan. Don't overcrowd the pan or you will stew rather than fry the fish. Fry for 1-2 minutes, then flip carefully. Fry for a further 30 seconds-1 minute and then remove from the pan. Place on absorbent paper briefly to drain. Wipe out the pan with paper and repeat with remaining butter and fish until all is cooked.
To serve, place salad in the cavity of the Whiting. Serve with Sauce Gribiche on the side and a glass of light dry white or beer!
To make a more substantial meal of this recipe, serve with boiled kiplfer potatoes tossed in butter.