This dish makes a feature of beautiful, juicy, sweet, crab meat, spring peas and broad beans. It makes a great canape if you're having guests over, or a delicious light lunch for 2-4. Get creative with the ingredients, you could add asparagus or any other seasonal veg that takes your fancy. If you want to stretch out the crab meat a little, a cup or so of fresh ricotta will in no way diminish the dish.
High quality picked crab meat is now available from fishmongers, so if you don't have the time or inclination to spend hours picking over the shells you can still enjoy this delicacy. Picked meat is most often either spanner crab from Queensland or blue swimmer crab from Western Australia. Don't be put off if it's frozen, proper defrosting (in a colander in the fridge) will ensure that the quality is still high. We recommend you take picked meat out of its packaging as soon as you get it home and leave it to stand in a colander for a few hours so it's not too wet.
Makes approx 24 canapes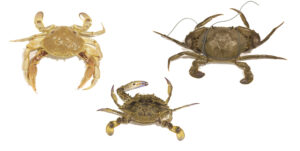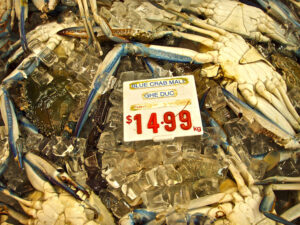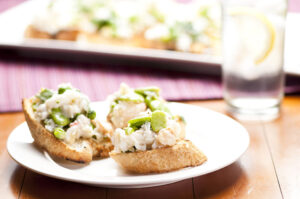 Ingredients
500g cooked Spanner or Blue Swimmer Crab meat, drained
1 Cup fresh broadbeans
1 Cup fresh peas
1 lemon, segmented
1 preserved lemon
1 handful basil leaves
1 handful mint leaves
2 Tbs mayonnaise
Salt and Pepper to taste
1 baguette or other crusty bread
1 clove garlic, peeled
Extra Virgin olive oil
Method
Pod the broad beans. Blanch the peas and broad beans briefly in boiling water and then refresh them in cold water to halt the cooking process and help them retain their bright green colour. Remove the second skin from the broad beans.
Cut the baguette into 2cm thick rounds and toast. We've done this on a barbecue to give a slightly smoky charred flavour, though a grill or toaster will do. Rub the toast with raw garlic while it's still hot and drizzle it with olive oil.
Quarter the preserved lemon and remove all of the insides. Slice into very thin strips. Crush the peas and broad beans lightly. Tear the herbs. Combine these with the crab and all remaining ingredients in a bowl, season to taste and combine well.
To serve, top the toasted baguette with heaped mounds of the crab mixture.