With the sun on your back and a beverage in hand eating with your hands seems obligatory, and we reckon this rock flathead burger is a pretty good bet. Chef Adam Upton-Browning had this delicious burger on his menu last summer when he was head chef at Saint Peter's restaurant, in Melbourne. It was so good that food writer Larissa Dubecki declared it one of her 'favourite summer dining moments', so we're glad he's decided to share the recipe with GFBF.
Serves 2
Preparation time:

20 minutes preparation, 6-10 minutes cooking and assembly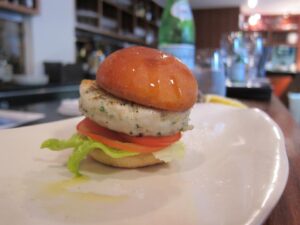 Ingredients
For the flathead burger patty
2 Whole Rock Flathead
half a birds-eye chilli, finely chopped
1 clove of garlic, crushed
1 shallot, finely diced
zest of 1 lemon
1 Tsp thyme leaves, finely chopped
1 Tbs Parley, finely chopped
Salt and Pepper
20ml Olive Oil + extra for frying burgers
To serve
2 soft white rolls, lightly toasted
4 leaves of crisp iceberg lettuce
1 tomato, sliced
aioli, mayonaise or tomato relish, depending on your preference
Method
Fillet, skin and pin-bone flathead fillets (or buy them at ready-to-use at this stage)
Mince the fillets in a blender or mincer, alternatively chop them by hand. Place in a bowl in the refrigerator while you are preparing the remaining ingredients.
In a pan on a low heat, warm the olive oil and gently fry the diced shallot, crushed garlic and chilli until soft, but not coloured (approx 8 minutes). Remove from the pan and cool in the refrigerator.
Place the cooled mix, minced fish, lemon zest and chopped herbs in a bowl and combine well
The patty mix is now ready to be moulded. Mould be hand (dampening your hands slightly to prevent the mix from sticking to them) or use a pastry cutter or other mould to make the patties even in size. Once moulded, chill the patties until you are ready to cook them.
To cook the patties, heat a dash of olive oil in a heavy based frypan on a medium heat. Pan fry the patties until just cooked through, approx 4 minutes a side depending on the size you have made them. Alternatively, barbecue the patties.
To serve, place in the toasted bun with the iceberg lettuce, tomato and aioli or relish. Enjoy!