Oysters Kilpatrick are a retro classic. While some people consider the cooking (or mere dressing) of an oyster to be a travesty, when done properly these techniques can highlight the oyster's own flavour characteristics and may help introduce the humble bivalve to new audiences. Known by many chefs as 'Killers', Oysters Kilpatrick are an unspoken and guilty pleasure of many an oyster lover.
The key to these is to make sure that the sauce is balanced – it should highlight the sweetness and saltiness of the oyster, not smother it. We specify using medium-large pacific oysters in this recipe, as we have found that the smaller Sydney Rock oysters are very easy to overcook. However, you can use any oysters at hand – simply adjust the cooking times depending on their size. The oyster should be warmed through, but not shrunken or rubbery!
Using a homemade tomato sauce or tomato chutney in place of the store bought variety can also help to elevate your 'Killers' out of the domain of the dodgy pub or RSL and into something special.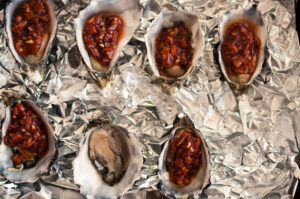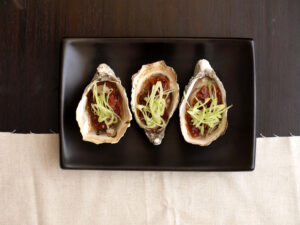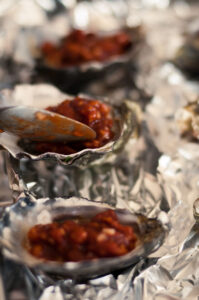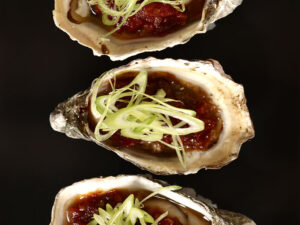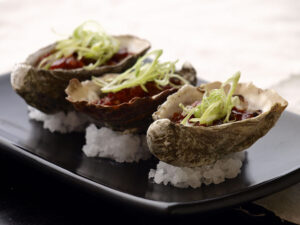 Ingredients
1 doz opened Oysters, preferably medium sized pacific oysters, though any larger oyster will suffice
2 rashers of bacon or pancetta, diced
1 shallot
1/2 C Tomato sauce
1 Tbs Worcestershire sauce
4-6 drops Tabasco sauce, to taste
Shredded spring onion or chopped parsley to garnish.
Stuck on how to shuck? Check out the GFBF guide How to Shuck an Oyster.
Method
Saute the chopped bacon (or pancetta) in a little oil on a medium heat until very crisp. Drain on paper towel and cool.
Chop the shallot as fine as possible and combine with crisp bacon and all the sauces. Taste and add more Tabasco if desired.
Line a baking tray or dish with either scrunched up aluminium foil or 1 inch of coarse rock salt. This is to hold the oysters in place during grilling.
Place the oysters face-up on the baking tray, ensuring they are secure and will not topple over. If necessary, push them firmly down into the foil or add more rock salt.
Top each oyster with 1 Tbs of the Kilpatrick sauce.
Place oysters under a hot grill for 2 minutes. The sauce should brown slightly on top and the oysters should be warmed through. A good measure of their readiness is when the edges of the oyster start to shrink slightly away from the shell. An overcooked oyster will be shrivelled, tough and chewy.
Remove from the heat and garnish oysters with parsley or spring onion. A squeeze of lemon before serving is also nice.