Fishes
Cooking methods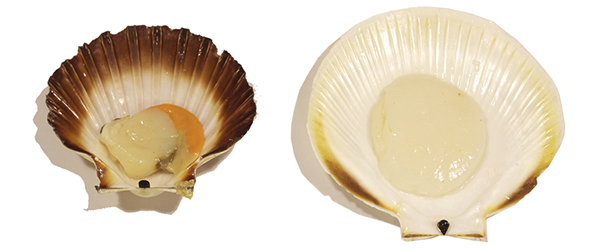 Scallop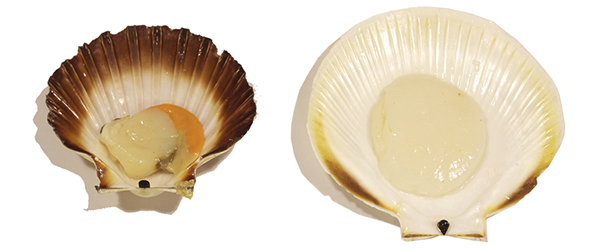 Rating
Rethink
Standard Names
Commercial Scallop, Saucer Scallop
---
AMCS lists wild Commercial Scallops as SAY NO, Wild Saucer Scallops as THINK TWICE and Farmed and hand-dived Scallops as BETTER CHOICE. Wild Canadian Scallops produced by the Clearwater Group are a Marine Stewardship Council accredited fishery. Forest & Bird (NZ) rank Commercial and Queen Scallops E (RED - AVOID) in their Best Fish Guide. Scallop Dredging is one of the most destructive of fishing techniques. Scallops have been historically overfished and now require heavy regulation if stocks are to recover.
Scallops are bottom-dwelling molluscs. The characteristic shell holds a large white abductor muscle, which is eaten along with the orange roe. In Australia, there are two main species of scallop marketed. The Commercial Scallop is found in Southern Australian waters and is fished mainly in VIC and TAS, with smaller fisheries in SA and Jervis Bay, NSW. Saucer Scallops have a smoother, rounder shell than the Commercial Scallop. They are fished in Northern Australia, especially QLD and WA. Wild caught scallops are predominantly harvested using environmentally damaging 'mud dredges'. Numbers of wild stocks fluctuate dramatically year-to-year, leading to large scale seasonal closures of the fishery. Scallop farming is a large industry worldwide but only in its fledgling stages in Australia. Scallops are farmed in TAS and QLD with potential for SA operations. Scallop Farms can be 'on-bottom' or 'off-bottom' operations. Of these, 'off-bottom' scallops are a preferable choice.
Preparation and cooking
Scallops have sweet, rich meat that is medium to firm in texture. They are sold both off the shell and in the half shell, and may be 'roe-on' or 'roe-off'. Scallops on the half shell can be steamed with asian flavours or grilled with butter or a lemon and herb crumb. Off shell scallops are best briefly grilled, fried or BBQ'd. Sear on a high heat to create a golden crust without overcooking. Remove scallops from the heat while still quite rare to allow the residual heat to finish cooking them, as overcooked scallops become rubbery and lack flavour. Very fresh scallops can be eaten raw as sashimi.
'SPRING BAY SCALLOPS' from Tasmania produce both wild caught and farmed Commercial Scallops. However, labelling rarely, if ever, allows for differentiation of the two.
'HERVEY BAY SCALLOPS', popular in restaurants, are Saucer Scallops, usually wild or 'sea-ranched'. Again, differentation between wild caught and farmed produce is difficult, though all is still dredged from the sea bed.
WILD CANADIAN SCALLOPS are used by many restaurants. They are always seen 'roe-off' and are distinguished by their large size. They are caught by dredge in the North Atlantic.