Fishes
Cooking methods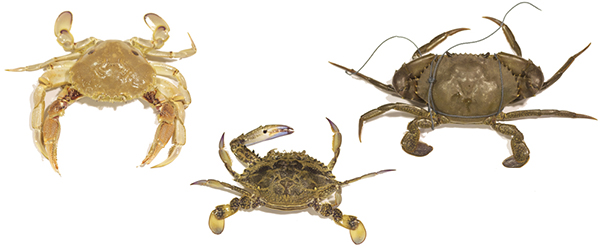 Crab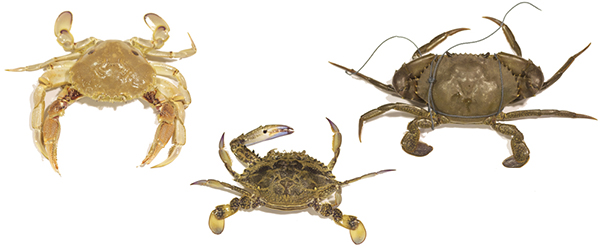 Rating
Good
Standard Names
Spanner Crab, Blue Swimmer Crab, Mud Crab, Snow Crab, Giant Crab
---
There are many species of crabs but the main three you will see at market are Mud Crab, Blue Swimmer Crab and Spanner Crab.
Crabs are usually sold either live, cooked, or frozen as they deteriorate rapidly when stored dead. They are caught using baited pots and other traps, and as bycatch of trawl fisheries.
Soft shelled crabs are any crab that has shed is hard exterior shell during its natural moulting cycle. In Australia they are generally Blue Swimmer Crabs. They are farmed in QLD using high tech robotics to detect when they have moulted and enable them to be harvested. Be aware, however, that the majority of soft shell crabs sold in Australia are from Asia.
Government Stock Assessment
Fishing Pressure
Biomass
AMCS Listing
Accreditations
Blue Swimmer
Crab
QLD
Sustainable
Eat Less
–
NSW
Sustainable
Better Choice
–
SA
Sustainable
Better Choice
–
WA
Sustainable
Eat Less
Crabs from Peel Harvey Estuarine
Fishery have MSC certification
and are considered
a 'Better Choice' by the AMCS
Western Australia
-Cockburn Sound
Depleted
Eat Less
–
Mud Crab
NSW, QLD, NT
Sustainable
Better Choice
–
WA
Sustainable
Undefined
–
Giant Crab
SA, Vic, WA
Sustainable
Undefined
–
Tas
Depleted
Undefined
–
Spanner Crab
NSW
Sustainable
Undefined
–
QLD
Sustainable
Better Choice
–
Crystal Crab
West Coast
Sustainable
Better Choice
Certified by Marine
Stewardship Council
What do these terms mean?
The why and how of sustainability
Spanner Crab has been identified as a sustainable choice by the Nature Conservation Council of NSW.
Crab fisheries generally utilise pots or traps, and as such have little interaction with threatened species, bycatch, or habitat damage associated with their capture.
More information on Government stock assessments and the Australian Crab Fisheries is available using the following links: Mud Crab, Giant Crab, Blue Swimmer Crab, Spanner Crab, Crystal Crab
Preparation and cooking
Mud Crabs are found in coastal mangrove flats in QLD, NT, WA and NSW and have firm, strong flavoured flesh.
Blue Swimmer Crabs are popular for their soft, sweet, slightly nutty meat. The majority of the commercial catch comes from southern QLD.
Spanner crabs have a more distinctive taste then other crabs and soft white flesh. They come from QLD and NSW, peaking from July to August.
If you have bought cooked meat, pick it from the shell for a salad or to toss through a light pasta dish. Raw crabs can be steamed, poached, stir fried, deep fried or barbequed. They are excellent with fresh asian flavours. They are also good in curries, and the shells should be used to make a soup or sauce.
SOFT SHELL CRABS are most commonly served deep fried. This method provides a crunchy exterior that serves as a satisfying contrast to the soft sweet meat inside. Lightly dust in seasoned flour or cornflour to achieve a golden, crunchy exterior, or coat in a light tempura batter.
For information on humane methods of killing crabs and other crustaceans, check out the info provided by the RSPCA HERE