This famous Malaysian soup is the perfect dish, year round. Its hearty noodles and warming broth make it comforting when the weather blusters and the rain comes down sideways. However, the fragrant, spicy base, fresh ingredients and balanced sour notes also make it refreshing on the hottest summer day. This dish can be made with as many or as few seafood types as you'd like. It's best to use whatever is fresh, local and sustainable.
This recipe was the subject of GoodFishBadFish's journey to the Footscray fishmongers for the story "The Road to Sustainable Seafood Laksa", published in The Casual Cyclist's Guide to Melbourne.
Preparation time: 45 minutes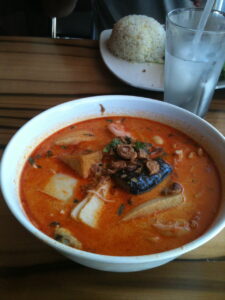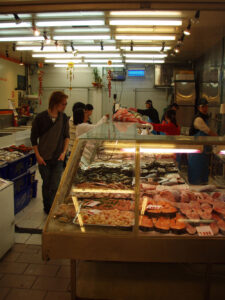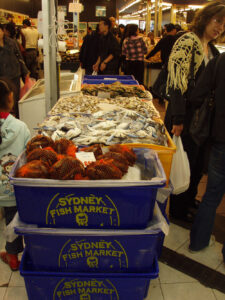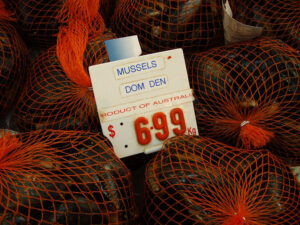 Ingredients
For the laksa paste
2 red chillies

4 cloves garlic

2 Tbs grated ginger

4 shallots

1 bunch coriander roots

1 stalk lemongrass chopped

1 Tbs shrimp paste

2 Tbs ground coriander

2 Tsp turmeric

4 Tbs oil

salt
For the laksa soup

2 Cups water or fish stock

1 x 400ml tin coconut milk

6 kaffir lime leaves

2 Tbs grated palm sugar

2 Tbs fish sauce (or to taste)

Juice of 2 limes
Other ingredients
500g local Blue Mussels

20 peeled Prawns, preferably wild caught and from Australia
200g Squid or Calamari, sliced

400g white fish, cubed, try Bream, Flathead or Whiting
400g noodles, hokkien, vermicelli or a mix of the two

1 Cup bean shoots

1 Cup roughly chopped coriander leaves
Method
For the paste, combine all ingredients and puree to a rough paste using a blender or mortar and pestle
Heat a little oil in a large saucepan and fry the paste over a medium heat until fragrant and softened. Stir often to prevent it from sticking
Add the kaffir lime leaves, fish stock and coconut milk and simmer for 20 minutes
Season the laksa to taste with palm sugar, fish sauce and lime
Heat a saucepan with a tight-fitting lid. When hot, add the mussels and a splash of the laksa sauce. Put on the lid and cook for 2 minutes, until the mussels open
Cook your noodles according to the packet instructions, and place in bowls
Bring the laksa soup to a simmer and add the prawns, calamari and cubed fish. Simmer for 1 minute, then turn off and allow to sit for 2 more minutes to cook the seafood through
Ladle the laksa soup and seafood over the noodles. Top with beans shoots and coriander and enjoy!