This raw fish dish is simple and impressive. We recommend that you talk to your fishmonger and use whatever species is freshest on the day. This recipe would work equally well with a softer, fattier fish, such as Bonito Tuna or Spanish Mackerel (used here) or a crisp lean white-fleshed fish such as Whiting, Flathead, Snapper or Boarfish. Play around and work out what you like best!
Fish for sashimi should be incredibly fresh, and prepared so that it is without skin or any bones. We also prefer to use the upper loin of a fillet, avoiding the area closer to the tail that may have more chewy sinew present. Many fishmongers now sell pieces prepared specifically for sashimi. When slicing your fish, use a sharp knife to cut cleanly against the grain of the fish.
You can find recipes to make your own Ponzu Shoyu online or in japanese cookbooks-traditionally it is made by combining light soy, yuzu (a japanese citrus) juice, dashi and mirin or rice vinegar. We'll be honest with you though.. for this recipe we bought a good-quality ponzu sauce off the shelf of our local asian grocer!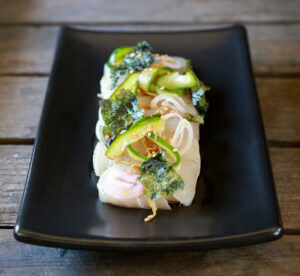 Ingredients
200g loin of sashimi-grade raw fish, skinless and boneless
Pickled Cucumber
1 small cucumber, deseeded
6 Tbs rice wine vinegar
4 Tbs sugar
2 Tbs water
1 very small pinch of salt
1 Tsp sesame oil
Pickled Shallot
2 peeled shallots
4 Tbs white vinegar
4 Tbs sugar
2 Tbs water
1/2 Tsp mustard seeds
1 very small pinch of salt
For the dressing
2cm nob of ginger, as young and tender as you can find
4 Tbs Ponzu Shoyu
1 Tbs Extra Virgin Olive Oil
To Assemble
2 tbs sesame seeds
2 sheets of nori (dried seaweed)
4 tbs ginger ponzu dressing (above)
Pickled shallot and cucumber (above), drained of pickling liquid


Method
Use a sharp knife to cut the fish into thin slices
For the cucumber pickle, slice the cucumber into ribbons. Simmer all ingredients except the cucumber until the sugar is dissolved and then cool. When cool, combine with the cucumber and allow to sit for at least half an hour before using. This pickle will keep refrigerated for a week or so, and should be crisp when served.
For the shallot pickle, slice the shallot into thin o's and place in a heat-proof bowl. Bring remaining ingredients to a simmer to dissolve sugar, and while still hot pour over the slice shallot. Cool rapidly and store until needed. This pickle will keep refrigerated for 2 weeks or so, and should be crisp when served.
For the dressing, slice ginger very finely. Rinse in fresh water, and squeeze dry (to remove some of the pungency), before combining with ponzu shoyu and olive oil. Adjust dressing with additional soy or citrus to taste if necessary
Toast the sesame seeds until light golden in colour and fragrant. Toast the nori sheets by waving carefully over a flame, or placing briefly in a hot oven. The nori should be crisp and fragrant, but not burnt, as this will make it bitter
To serve, arrange sliced fish on a platter. Spoon over dressing, and scatter with pickled shallot, pickled cucumber, toasted sesame and torn nori sheets. Serve with wasabi if desired