'Sandwiching' crispy skinned mullet with a stuffing of pine nuts and raisins is a great way to show off this delicious moist fish.
This recipe might sound complicated, but it's not especially difficult. Both the zucchinis and the mullet "sandwiches" can be prepared ahead of time so all you have to do when your guests arrive is fry the fish.
Serves 4
Preparation time: 1 hour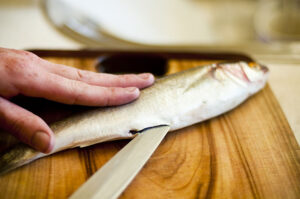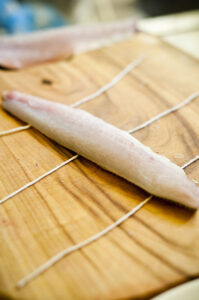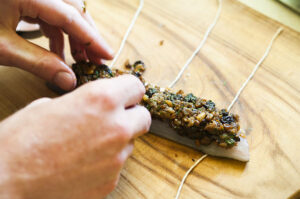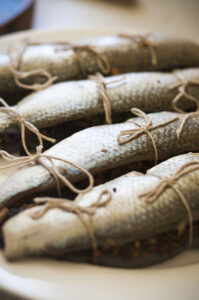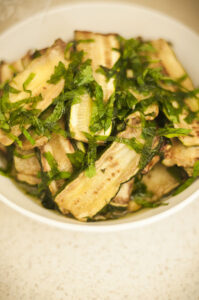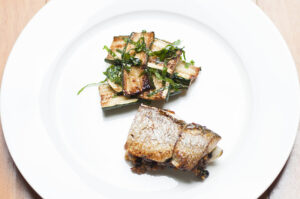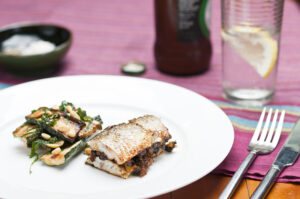 Ingredients
8 fillets of Yellow-Eye Mullet
pin-boned and skin-on
1/2 brown onion
1 clove garlic
1 cup coarse fresh breadcrumbs (we've used sourdough)
1/4 cup pinenuts
1/3 cup raisins
Zest of 1 lemon
1/4 cup chopped parsley
Salt and Pepper
12x 15cm lengths of brown string
For the Marinated Zucchini
2 zucchini
Olive Oil
2 tbs red wine vinegar
1/4 Cup mint leaves, chopped roughly
Salt and Pepper
Method
Toast the pinenuts on a tray in the oven at 150C until they are a light golden brown in colour (approx. 5 minutes). Reserve 1tbs of pinenuts whole for the marinated zucchini. Chop the rest roughly.
Put the raisins in a mug and add 1/4 C of hot water. Soak until needed
For the stuffing, chop the garlic and onion very finely. Sauté in olive oil until soft and fragrant but not coloured. Add the breadcrumbs and fry on a medium heat until golden. Add chopped pinenuts and raisins, including any excess liquid. The mix should come together to a stuffing consistency. Add lemon zest, chopped parsley and season to taste. Allow to cool.
For the marinated zucchinis, cut zucchini into strips approx 6cm long, 1/2 cm thick and the width of the zucchini. Lightly salt these pieces for 5 minutes to draw out excess liquid, and then pat dry.
Shallow fry the zucchini pieces in olive oil in small batches until dark golden. Remove and drain on absorbent paper. Continue with all of the zucchini.
Layer the zucchini in a bowl, alternating layers of zucchini with chopped mint, reserved whole pinenuts and seasoning. When all has been used, pour over the red wine vinegar and 2tbs fresh extra virgin olive oil. Keep until needed, but don't refrigerate.
For the 'Sandwiches', lay 3 pieces of the brown string on a chopping board and lay a fillet of mullet across these, skin facing down. Press several tablespoons of the filling mixture onto this fillet, covering it completely. Lay a second fillet of mullet on top of this mixture, skin facing up. Press down firmly and use your hand to replace any stuffing that has fallen out. Now gather the string and tie three evenly spaced loops to firmly secure the 'sandwich'. Repeat with remaining fillets and filling. These can be done up to a day ahead, and will actually hold together better when cooking if they are pre-prepared and allowed to set in the fridge.
To serve, fry sandwiches on a medium heat until the skin is crispy and the filling is warm (you can check this with a metal skewer inserted into the centre if necessary). This should take about 4min per side. You could also cook these on a barbecue hotplate. Sprinkle the skin of the mullet with coarse sea salt and serve with the marinated zucchinis.
A note: If the mullet sandwiches are sticking to the pan when you attempt to flip them, they're not ready. Leave them be for another 30secs-1min and they should come off cleanly.