Paul Cooper is head chef and co-owner of Bishop Sessa in Surry Hills, where he takes a casual approach to modern European dining. Paul's food highlights his passion for small producers and nose-to-tail cooking. He focuses on using local, sustainable produce wherever possible.
This dish was created for a Sustainable Seafood dinner that Paul held at O'Connell's Hotel in Melbourne towards the end of 2011. The dinner was held with the Australian Conservation Society (ACF)  to highlight the release of a new round of recognised sustainable products from Victorian fisheries.
Paul uses Gippsland Lake Black Bream when preparing this dish. If unavailable, any type of Bream will suit this recipe.
Preparation time:

Serves 4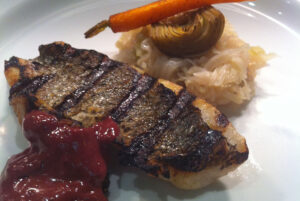 Ingredients
2 Gippsland Lake Black Bream, about 600gm each, filleted, scaled and pin bones removed
2 Tbs vegetable oil
Choucroute
1 white cabbage
3 white onions
300g smoked bacon trim
300g pancetta
200ml duck fat
1L white wine
1 bouquet garni (a bundle of aromatic herbs tied together with string or cloth – use parsley, thyme & bay leaf as a starting point)
Baby Carrots
2 bunches baby carrots
Red Wine Bearnaise
200ml red wine
100ml port
100ml merlot vinegar
2 sprig thyme
1 bay leaf
5 sprigs tarragon
400ml clarified butter, warm
4 egg yolks
Extra merlot vinegar for adjusting
Method
For the Choucroute
Finely slice the onions & cabbage. (Paul recommends doing this on a meat slicer, though finely slicing with a knife will do).

Put the duck fat, meat trim, onion & bouquet garni in a heavy based pan. Cover the pot with cling film and sweat on a low heat until soft, approx 30 minutes.

Blanch the sliced cabbage by plunging it into boiling water & then add it to the onions. Add all the wine to the pot (it should cover the other ingredients) & cover the pot again. You may wish to use a cartouche to ensure the ingredients remain fully submerged. Cook until tender, approx 2 hours. Add more wine as needed.

This will keep well refrigerated for up to 7days
The meat can be left out of this preparation if you are looking for a vegetarian option.

For the Carrots
Bring a pot of salted water to a boil.

Peel the baby carrots; trim the top so about 1cm of the green is attached. Blanch carrots in the boiling water for 1minute and 20 seconds, or until just cooked, and refresh in ice-cold water to stop the cooking.

For the Red Wine Bearnaise
Reduce the red wine, port and vinegar by simmering with the thyme, bay leaf and tarragon until only 80ml remains.

Put the egg yolks in a large stainless steel bowl and add the vinegar/wine reduction. Place the bowl over a pot of boiling water and whisk these together to until thickened (this is called a sabayon).

Remove from heat and while whisking, slowly pour in the butter. Add 50ml at a time until all is incorporated. If it starts to get too thick, add a little warm water to thin it.

Add salt to taste, and use the extra vinegar to adjust the acidity level if necessary.

Keep in a warm place until ready to serve, do not leave for longer than 30 minutes.

To Serve
Heat up the BBQ, on its highest setting.

Heat the required amount of choucroute (Paul recommends around 100gm for each person) in a small saucepan.

Cook the carrots on the BBQ grill to heat them through and get a light char on them, then remove and keep warm.

Lightly oil and season the fish. Place skin side down on the grill and cook for 2 minutes, or until the skin is crispy. Turn the fish, and cook for 30 seconds more, or until just cooked and remove and place on serving plate.

Alternative Cooking Method
Heat a pan large enough to hold all four fillets of bream. Lightly season the fillets, add the oil to the pan and place the fillets skin side down in the pan. Cook on high heat for 1 minute then turn down to low and cook for a further minute. Add the butter, turn the fish and cook for 30 seconds more or until it is just cooked. Remove the fish from the pan, add the baby carrots and return pan to the heat until the carrots are heated through and are lightly caramelised.