Charlotte Wood is an Australian author, who blogs about her passion for food at howtoshuckanoyster.com
Charlotte tells us that this recipe came about out of an offal-eating challenge – the sauce was originally meant to accompany tripe, but Charlotte realised it would suit octopus just as well. Braised octopus is one of those dishes you need to eat before you can fully understand its appeal – it's good simple peasant food with layers of kickarse flavour, but a lovely sumptuous texture as well.
The photo doesn't show the white beans, which were an addition to leftovers the next day, but which were so good she putting them in the final recipe!
You can find the original recipe on Charlotte's blog HERE.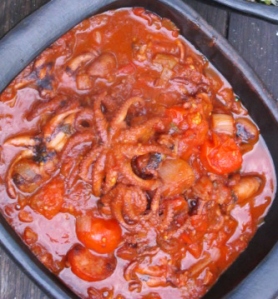 Ingredients
1 kg cleaned Baby Octopus – much of the baby octopus available in Australia is imported, so make sure you're buying Australian!
3 rashers bacon or pancetta, cut into chunks
1 large onion, roughly chopped
1 head garlic, cloves roughly chopped
1 stick celery, finely chopped
2 bay leaves
400ml or more red wine
2 Tbs dried oregano
1 bottle (700g) tomato passata
1L chicken stock
2 red chillies, split
10 halved cherry tomatoes or equivalent small tomatoes, roughly chopped
Half to 1 chorizo sausage, sliced & fried
1 Cup (or more) cooked /canned & drained white beans
Salt & pepper
Method
Heat some oil in a heavy based pot (or casserole) and fry the bacon, onion, celery, garlic and bay leaves until soft
Add the wine, oregano, passata and stock to the pot and bring this to the boil. Add the octopus and simmer for 30 minutes.
Stir in the chopped tomatoes, white beans and fried chorizo rounds and cook gently for another 15 minutes or until the octopus is tender.
Check the seasoning and serve in shallow bowls with lots of crusty bread on the side!