This baked fish is easy enough for a mid-week dinner, but also a show-stopper when entertaining at home. You could expand this recipe and cook a whole side of fish for a crowd with ease, just adjust cooking times as necessary.
We have used Barramundi here, but any larger, firm fleshed fish will work equally well.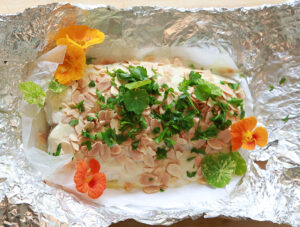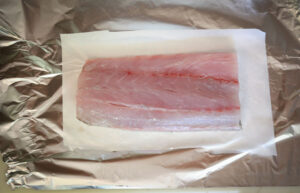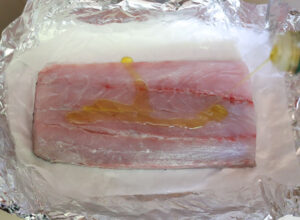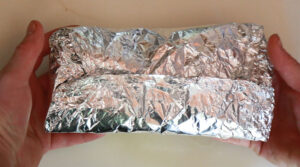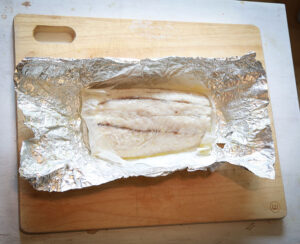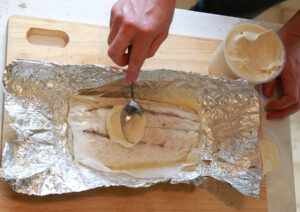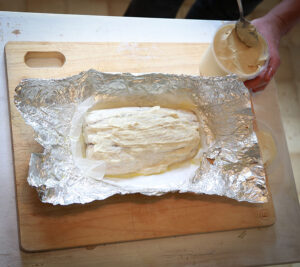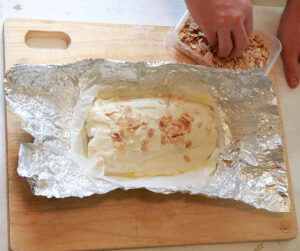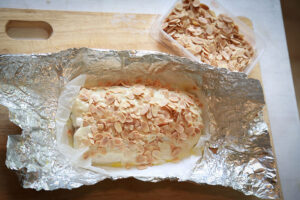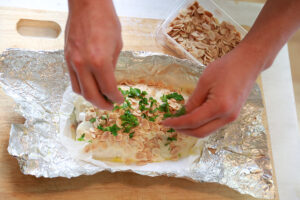 Ingredients
1 piece of boneless firm-fleshed fish, such as Barramundi (used here), Atlantic Salmon, Spanish Mackerel, Blue-Eye Cod or Snapper
Allow approximately 180-200g per person
Salt, Pepper, and Olive Oil
For the Tahini Yoghurt
2 cups of natural greek yoghurt
1/2 cup tahini, or to taste
1 clove garlic, crushed
Juice of half a lemon
Pepper and salt
To Finish
1 cup flaked almonds, toasted
1 cup mixed herbs, roughly chopped
Extra virgin olive oil
Method
Preheat oven to 200 degrees C. Take a square of foil large enough to completely wrap your piece of fish. Place a square of baking paper in the centre of this
Place your fish skin side down on this paper, drizzle with oil and season well with salt and pepper. Wrap in foil to seal
Put fish on a tray and place in hot oven. Fish cooking time will vary depending on the total size of the piece, thickness of the fillet, species, and oven. As a guide, cook a 200-300g piece for approximately 10 minutes, and add 2-3 minutes cooking time for every 100g above that. Experiment with different fish, and find out how well done you like it, and how long this takes. This isn't an exact science, but also isn't scary. If you take your fish out underdone, simply re-wrap and pop it back in the oven for a few minutes more!
While the fish is cooking, combine the yoghurt, tahini, crushed garlic, lemon juice and season to taste. Toast the almonds if you haven't already done so.
When cooked, remove the fish from the oven and unwrap. Spread with the tahini yoghurt mix. To finish, top with the toasted almonds, chopped herbs and a drizzle of oil. Serve as a centre piece, allowing guests to serve themselves.