Aquaculture is a growing part of world seafood production. It accounts for 47% of all seafood produced and is set to overtake wild-caught fisheries in the coming years. The present dialogue on aquaculture seems to focus on two polarised opinions – those who think that aquaculture will be the saviour of the oceans VS those that are adamant it will be its ruin. So who's right? Is anyone?
Just as there are different fishing techniques that have different impacts on the environment, not all methods of aquaculture are created equal.
Open-Pen Sea Cage Aquaculture is one of the more contentious methods of aquaculture. Environmental groups worldwide lambast it, while the industry promotes itself as sustainable and environmentally conscious, the way of the future. These views seem contradictory, so which is right?
GoodFishBadFish has decided to uncover the differing opinions about sea-cage aquaculture in Australia and the reasons for them, so that consumers can make an informed choice. We'll be presenting the views of individuals and organisations on all sides of the debate – conservationists, scientists, government, the seafood industry, as well as those farming the fish on a daily basis. Everyone will get a say.
Let's get started!
What is Open-Pen Sea Cage Aquaculture?
Open-Pen Sea Cage Aquaculture is the farming of fish by enclosing them in cages or pens. These pens are anchored in natural waterways – estuaries, bays, or other coastal marine environments. Juveniles are sourced from hatcheries or wild populations, protected from predators and fed regularly. The fish are kept in these pens until they reach marketable size, when they are harvested.
Farming fish in an existing waterway removes one of the biggest constraints of fish farming on land – the need for a constant flow of clean, oxygenated water. Farms are positioned to utilise natural currents, which provide the fish with oxygen and other appropriate natural conditions while also removing waste.
Finfish grown in open systems are primarily carnivorous species, which are fed on a pelleted diet made from cereal grains and fishmeal. In Australia, open pen systems are used to grow Yellowtail Kingfish, Southern Bluefin Tuna, Atlantic Salmon and Trout as well as small quantities of Snapper and Barramundi.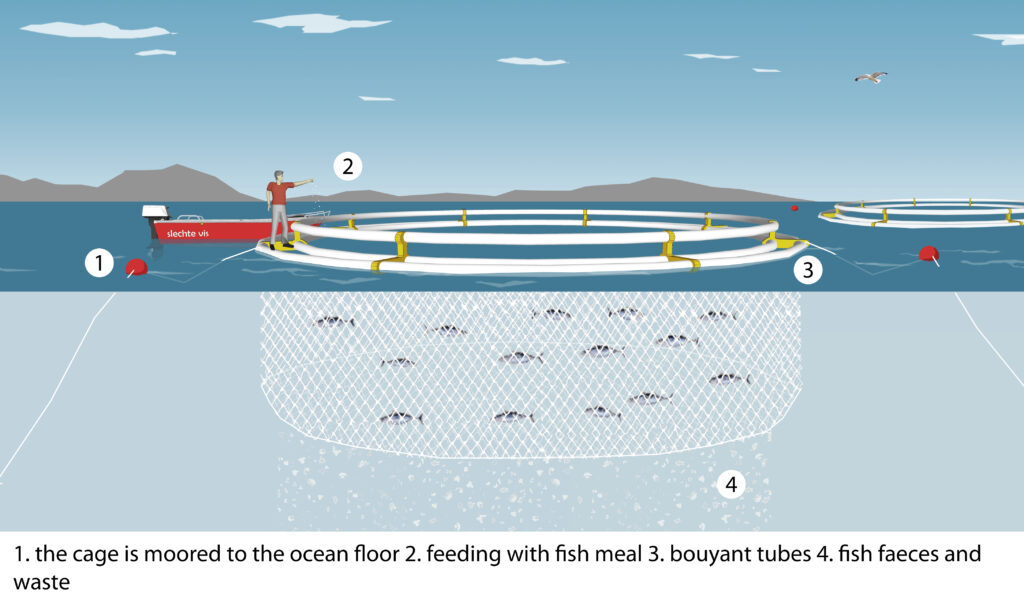 The Necessity of Aquaculture
Next, let's look at worldwide seafood consumption and the widening gap between what we want to eat and what we can realistically continue to take from wild sources.
Decline in wild fish stocks: "Globally, wild catch commercial fisheries reached full exploitation levels in the 1990's at around 95 million tonnes. However, human consumption and non-food uses have driven total demand to over 144 million tonnes (2008). Aquaculture provides the means to fill this widening global seafood demand shortfall."[i]
Growing Reliance on Aquaculture: The world will come to rely on aquaculture to provide the fish that nature can't. In fact, this is already the case. Since 1970, aquaculture's contribution to the supply of global seafood has increased from 3.9% of total production to 47%[i]. That's right, nearly half of the seafood worldwide is produced by aquaculture, and we're going to come to rely on it even more as worldwide population increases and the growing appetite for seafood creates demand.
This trend is reflected in the massive growth of aquaculture worldwide – aquaculture is the fastest growing food production sector in the world, and the fastest growing primary industry in Australia, with an annual growth rate of 6%.
The Aquaculture Industry in Australia
Depending on whose statistics you read, aquaculture accounts for 20-30% of the gross volume of total Australian fisheries production. The largest aquaculture species in Australia are the farmed Salmonids – Atlantic Salmon and Trout (incl. 'ocean trout'). These are farmed using open-pen sea cage aquaculture, predominantly (over 95%) in Tasmania.
Other finfish farmed using Open-Pen Sea Cage in Australia include:
Yellowtail Kingfish (including all marketed as "Hiramasa")
Barramundi
Southern Bluefin Tuna (ranched)
Production: Caged aquaculture of these fish and a few others produce 30,000 tonnes of fish a year, half of which is from the Salmonids[i]. This may seem like a huge amount, but in a gloabl context these figures are tiny – Australia contributes only 1% of the world's caged aquaculture production. The biggest players are China (29%), Norway and Chile. Australian seafood is highly regarded for its quality, a view that needs to be maintained in order for the industry to actively compete globally. Australian aquaculture is well placed to learn from other countries in developing best practice, particularly with regard to environmental issues.

Future Growth: The Australian aquaculture industry is predicting huge expansion – The National Aquaculture Council (NAC) has set growth targets to increase production from the current 60,000tonnes to 100,000tonnes by 2015. For its part, the Salmonids industry is predicting growth to 50,000 tonnes by itself by 2015.
Controversy and Contradictory Opinions
Attempting to eat ethically can be confusing in any food sector today. Consumers are confronted with tough decisions at every turn – faced with buzzwords such as 'organic', 'free-range', and 'fairtrade'. But nowhere are the decisions more difficult than at the fishmonger.
Australian seafood producers, including those using sea cage aquaculture, are all keen to identify themselves as 'sustainable'. The Tasmanian Salmon farms are leading the charge, but we've seen many other products touting the same claims. The leading conservation groups, however, have a different opinion.
Consider…
The Australian Marine Conservation Society (AMCS) applies a red-list status (SAY NO) to all products of Open-Pen Sea Cage Aquaculture, including Salmon, Trout, Barramundi and Yellowtail Kingfish.
This is an opinion (and a rating) applied by many seafood guides internationally, including the Monterey Bay Aquarium's Sea Watch program (US) and Greenpeace (international).
However…
The Australian Conservation Foundation (ACF) has recently identified Cone Bay Barramundi, a product farmed using Open-Pen Sea Cage Aquaculture in the Buccaneer Archipelago, WA, as sustainable, according to their Sustainable Australian Seafood Assessment Program.
Meanwhile…
International Seafood Certifier Friend of the Sea (FOS) have certified Yellowtail Kingfish farmed by the Cleanseas Group near Port Lincoln, SA as sustainable. This is produced using Open-Pen Sea Cage Aquaculture.
Supermarkets, including Coles, promote their Salmon, which is produced using Open-Pen Sea Cage Aquaculture, as "Sustainability Sourced".
Confused yet? There appears to be more to this debate than meets the eye.  We'll be exploring the issue of Open-Pen Sea Cage in articles and interviews over the coming weeks, so stay tuned. Meanwhile, start the discussion yourselves. What's your opinion on Open-Pen Sea Cage Aquaculture? Is it necessary? Is it environmentally responsible, or damaging? Can it be improved? Will you eat its products? Start talking.
---
[i] From the Fisheries Research and Development Corporation [FRDC] 'Overview of Australian Fishing and Aquaculture Industry Present and Future, March 2010', citing statistics from the Food and Agriculture Organization of the United Nations [FAO]