Fishes
Cooking methods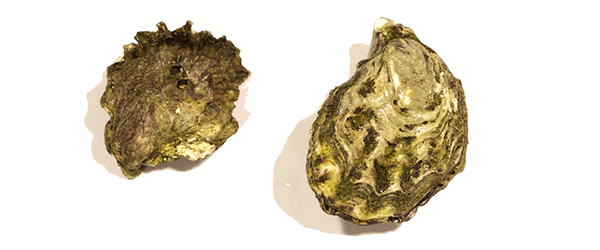 Oyster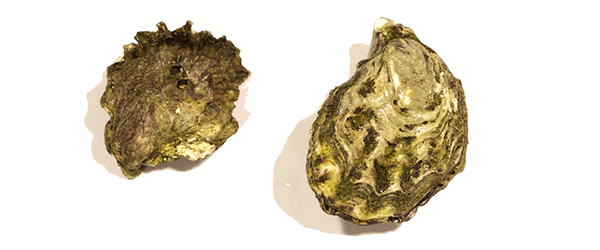 Rating
Good
Standard Names
Sydney Rock Oyster, Pacific Oyster, Native Oyster
---
Farming methods for Oysters have very little impact on surrounding ecosystems. That's why they are a GFBF Favourite! AMCS lists oysters as a 'Better Choice'
Oysters are a bivalve found in marine and estuarine environments worldwide. In Australia, 3 species are commonly grown and marketed. All of the oysters available commercially in Australia have been farmed. The flavour of oysters is influenced greatly by the environment in which they are grown, as they feed by filtering the water in which they live.
Preparation and cooking
Oysters are best bought live in the shell and opened just before serving. Though purists will argue that they are best served unadorned in their own juices (rinsing being sacrilege and the addition of lemon being barely tolerated) they are commonly served dressed and larger specimens (esp Pacific) are excellent cooked – be it deep fried in a crumb or batter or grilled with a sauce in the style of Oysters Kilpatrick, Rockefeller or Mornay. They require very little cooking, only until the edges begin to shrink.
Learn how to prepare your own oysters with the GFBF Tutorial How to Shuck an Oyster
For a delicious oyster recipe check out GFBF's Oyster's Kilpatrick
The NATIVE OYSTER (often called 'Angassi') is a 'flat oyster' related to the European Belon oyster. They are grown in limited commercial quantities in the southern states of Australia. Native Oysters have seen a resurgence in popularity in recent years with high end restaurants championing them. They are available May to August. They spawn from November to March, when they are gritty and inedible. Native oysters have fine textured meat and a distinctively salty flavour.
SYDNEY ROCK OYSTERS are also native to Australia and have been farmed in Southern Australia for 130 years. They are grown mainly in NSW, with some production in Southern QLD, VIC, and in Albany, WA. Sydney Rock Oysters take 2-4 years to reach marketable size. The season is at its peak from September through to March. Sydney Rock Oysters have a rich, creamy taste, a slight flavour of iodine and are more minerally than other oysters.
PACIFIC OYSTERS were introduced from Japan in the 1940's. They are grown in the deep cool waters of SA and TAS. They have recently become dominant at market over the Sydney Rock Oyster, favoured by growers because they take less time (18-24 months) to reach saleable size and have a more uniform shell size and shape. They are considered an invasive species in many states and are banned in QLD, VIC, WA and most of NSW. They are available year round but peak from April to September and are best avoided in Jan and Feb when they spawn. They are sweet and creamy with a strong briny taste and smell.
'TRIPLOID' oysters are a sexless oyster. Becasue they are sterile they can be grown in areas with native oyster populations (such as the Hawkesbury, Georges and Shoalhaven estuaries in NSW). As they don't spawn they are favoured by growers and chefs.
'KUMAMOTO-STYLE OYSTERS' are not a true Kumamoto (an oyster originating in Japan) but a Pacific Oyster grown in conditions that develop the small but deep rounded shell, large firm muscle and sweet flesh characteristic of the species. Oysters are being grown in this style in Coffin Bay, SA.