Fishes
Cooking methods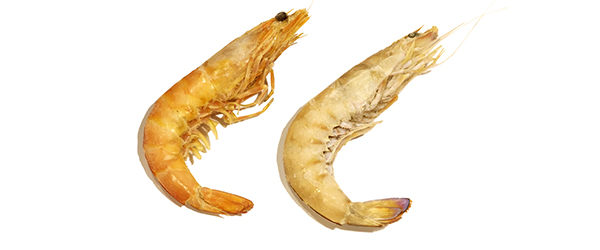 Prawn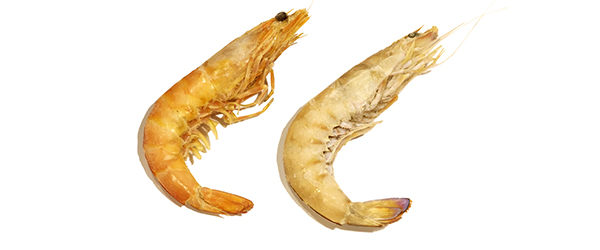 Rating
Rethink
Standard Names
King Prawn, Tiger Prawn, School Prawn, Banana Prawn, Black Tiger Prawn, Endeavour Prawn, Bay Prawn, Royal Red Prawn
---
There are hundreds of species of prawns worldwide, found in marine, brackish estuarine and even fresh waters. The firm, moist, sweet flesh of prawns has made them a sought after food source in Australia. The most popular species (and highest priced) are King Prawns and Tiger Prawns, both being larger prawns with very firm flesh and attractive presentation traits. Wild caught prawns are trawled across the Northern reaches of Australia from Exmouth (WA) to Brisbane (QLD), as well as in the Spencer Gulf (SA) and on a smaller scale in NSW and VIC. Farmed Prawns are grown in ponds. Black Tiger Prawns (previously labelled 'Kuruma Prawns') account for most Australian aquacultured prawns and are grown mainly in QLD. Because their meat is highly perishable, prawns are usually frozen or cooked onboard boats soon after capture. Prawns treated in this manner and defrosted properly can be some of the best available. Raw prawns are sold as 'Green Prawns'. Imported Vannamei and Tiger Prawns are grown in Asia using environmentally destructive techniques, and should be avoided.
WA, QLDSustainableEat LessExmouth Gulf & Shark Bay prawn fisheries certified by the MSCVictoriaUndefined (insufficient information)–
Government Stock Assessment
Overfishing
Biomass
AMCS Listing
Accreditations
Eastern King Prawn
NSW
Sustainable
Eat Less
–
QLD
Sustainable
Eat Less
–
Western King Prawn
SA (Spencer Gulf)
Sustainable
Better Choice
Spencer Gulf King Prawn fishery certified by the MSC and the ACF
QLD, WA, SA
Sustainable, with the exception of the Gulf St. Vincent Prawn Fishery (Transitional – Depleting)
Eat Less (SA & WA) and Not Assessed (QLD)
Exmouth Gulf & Shark Bay prawn fisheries certified by the MSC
Banana Prawn
C'wealth (Incl. NPF*)
Sustainable
Eat Less
*See note below
QLD, WA
Sustainable
Eat Less
–
Tiger Prawn
C'wealth (Incl. NPF*)
Sustainable
Eat Less
*See note below
NSW
Undefined/Negligible Catch
–
–
Bay Prawn
QLD
–
Better Choice
–
Eastern School Prawn
QLD
Sustainable
Eat Less
–
NSW
Sustainable
Eat Less
–
Endeavour Prawn
C'wealth (Incl. NPF*)
Blue Endeavour Prawn (NPF and Torres Strait fisheries) considered Sustainable, Red Endeavour Prawn (NPF) Undefined
Eat Less
*See note below
QLD, WA
Sustainable
Eat Less
–
Royal Red Prawn
NSW
Moderately Fished
–
–
Various, Incl. Tiger & Banana
Local Farmed
–
Better Choice
–
Various, Incl. Tiger, Vannamei & others
Imported Farmed
–
Say No
–
What do these terms mean?
* NPF – The Northern Prawn Fishery (NPF) is Australia's largest and most valuable prawn fishery, and the second most valuable fishery operated under Commonwealth management. It extends from Cape Londonderry in WA to Cape York in QLD. Endeavour, Banana and Tiger prawns are caught in this fishery by boats using various types of fishing gear. The NPF has been certified as sustainable by the Marine Stewardship Council.
Preparation and cooking
PRAWNS are very versatile, being suited to many cooking methods. In all cases though, remember that prawns will continue cooking after being removed from the heat, and so should be cooked only briefly to ensure a sweet, juicy product. Overcooked prawns can be tough and flavourless.
Prawns are excellent steamed, poached, deep fried (esp. school prawns), pan fried, grilled and BBQ'd (esp. larger King and Tiger Prawns). Prawns hold their shape well in soups and curries. Cooked prawns can also be served cold in sandwiches or salads such as the famous 'prawn cocktail'.
'SCHOOL PRAWNS' are small examples of prawns from the Metapenaeus genus, including School Prawns, Endeavour Prawns, and Bay Prawns. Usually fried and eaten whole, sometimes dusted in spices.